Social justice educators are being attacked with Red Scare tactics — their names published on lists by right wing publications, threats of firing, and even physical intimidation.
That is why the Zinn Education Project (ZEP) invited historian Dayo Gore to share stories of resistance from her books: Radicalism at the Crossroads: African American Women Activists in the Cold War and Want to Start a Revolution?: Radical Women in the Black Freedom Struggle. As a part of Teach the Black Freedom Struggle online people's history series, Gore was in conversation with Jesse Hagopian on January 23, 2023.
Gore connected McCarthyism to the current "anti-CRT" attacks on education.  Ursula Wolfe-Rocca, ZEP team member, highlighted Gore's comments in a Twitter thread: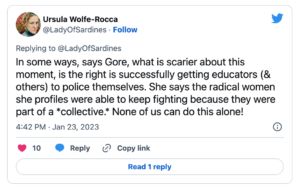 Here are reflections from participants about what they learned:
The most important idea is that there were not just a few Black women leaders in our history, there were many. And we need to bring them up to the surface for all to see, learn from, and recognize. If we don't then we are saying that they don't exist.
It's powerful to learn about the buffet of organizing tactics Black radical women during the era used: due process/legal tactics, direct action, using the media, etc.
"Subversives" Workshop
One week after the online class, ZEP hosted a curriculum workshop for Teaching for Black Lives study groups and guests focused on Subversives: Stories from the Red Scare.
ZEP team member Ursula Wolfe-Rocca facilitated the workshop, which focused on the labor and racial justice activists, educators, artists, LGBTQ people targeted by the Red Scare. She opened the workshop with a quote from Howard Zinn: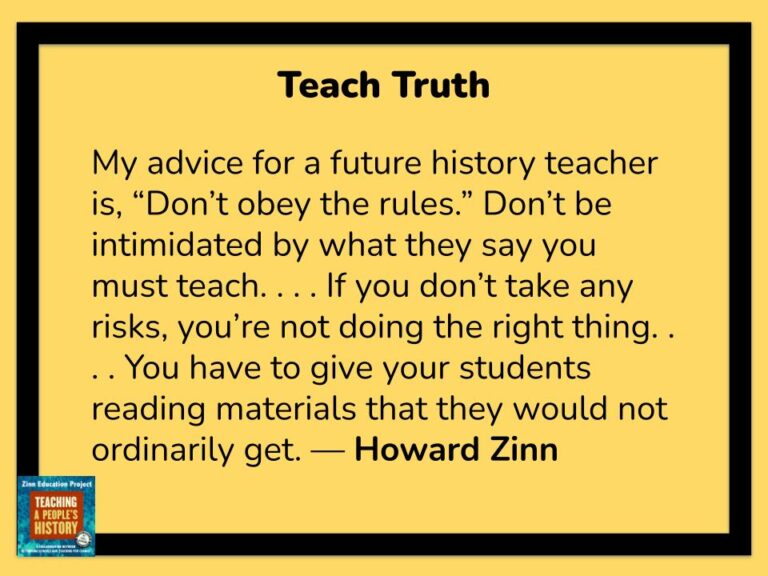 Wolfe-Rocca explained,
These words take on new resonance at a time when state legislatures and school boards across the country are enacting policies to curtail what educators in public schools and universities can say and teach about reality and history.  There have already been some high profile cases of teachers being fired as a consequence of the gag rules. But even more terrifying than those relatively rare cases is the chilling effect of these laws. Afraid for their livelihoods, we know that more teachers will feel safer if they stick to the textbook, the standard narrative and curriculum.
But the standard narrative of McCarthyism, Wolfe-Rocca said, is wrong. It reduces the Red Scare to the buffoon-like character of McCarthy, ignores many of central targets of the suppression — like the Black Freedom and Labor movements, and treats the late '40s and early '50s as anomalous, obscuring the throughline of political repression of progressive movements throughout U.S. history. For the remainder of the workshop, educators participated in a mixer activity. Everyone learned the story of one of the 27 targets of government harassment.
In a series of breakout room conversations, educators shared information about the individual they learned about — including how, why, and by whom they were targeted — and noted similarities, patterns, and connections between the different individuals.
In the final debrief, many workshop participants made connections to the anti-CRT and anti-anti-racist politics of the current moment. 
Read key takeaways from workshop participants below.
They're trying to scare us, you know. That's what Mccarthyism was about, it was a scare tactic. The fear of Communism, and they're coming to get you and you know that's what they're saying about the teachers. And I think in the face of that we have to teach the truth, because you cannot, as Baldwin said, you cannot have a false foundation. You can't move forward on a pack of lies on the untruth. It's our obligation to teach the truth because our kids are our hope. They are the hope of the future, and we can't fill them with the same narrative that I grew up with.
I LOVE the mixer idea. I learned it before with a class Ursula taught and it is so engaging to be in and to do with my class. I will use this lesson for sure! I learned about people this time too that I did not know about before.
I love that mixer activity! I might use that for my community cause unit where we teach students to use their writing to make a difference and stand up for others.