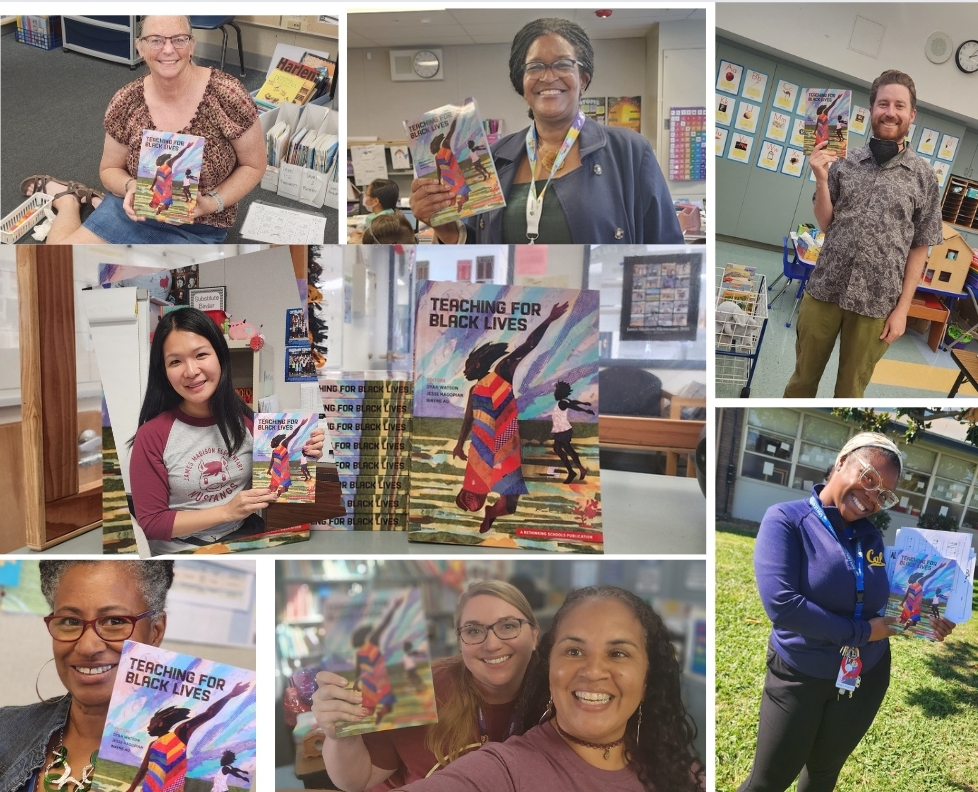 The Zinn Education Project has begun its third year of nurturing communities of antiracist educators by sponsoring 100 Teaching for Black Lives study groups across the United States. This year's study groups represent 30 U.S. states and two Canadian provinces.
Additionally, 16 groups continue their work from past years. A majority of the participants are teachers but several groups include administrators, counselors, librarians, and support staff. 
Meet just a few of the 2022–2023 study groups below.
The New York School for the Deaf, has a study group of 71 members that includes the staff from their elementary and secondary schools. They meet once a month "to be empowered
with knowledge to support and educate their student population in a culturally relevant manner."
The study group from Special Music School in Manhattan hopes to complete their reading and discussion of the book by January.
In 2023, they will work in cross-content and mixed-age groups to create curricular artifacts that reflect their engagement with
Teaching for Black Lives
. Finally, they plan to share out the work created as a means to invite each other to dream new ways to engage in anti racist teaching.
A group of administrators in the School District of Philadelphia is meeting to dig deep in a community of peers about their role and responsibility in dismantling structural racism. They meet twice a month to share experiences and brainstorm ways to collaborate across departments.
Teachers at Douglas S. Freeman High School in Henrico County, Virginia report there is a deeply rooted history of racism at their school. Members of the study group are striving to create a sense of belonging for their Black students by seeking every opportunity to grow in their support of students.
A middle school (6–8) group from the Academy of Math and Science (AMS) and Tucson Unified School District has the collective goal to develop and gather resources on anti-racist teaching, and ultimately share these resources through a presentation to the AMS network. 
In the San Francisco Unified School District, 10 educators from Daniel Webster Elementary School (K–5) formed a group that includes a teacher from each grade level, plus several support staff members, who will bring back learning each month at their grade level meetings. They are exploring ways to supplement their existing curriculum with identity, justice, diversity, and action lessons that celebrate Black excellence.
The W. E. B. Du Bois Academy in Louisville, Kentucky, serves primarily African American students in grades 6–12. Teachers at the school have formed a study group to prepare lessons tailored to their students' needs, knowledge, and interests. They meet monthly and will share lessons they write with the full staff.
A social studies teacher at University High School in Carmel, Indiana is forming a student study group during the "January term." This will be a month-long intensive class called Anti Racism 101. The class is an outgrowth of a book club students began two years ago. They hope to develop long term strategies to instill antiracist frameworks for the school, faculty, and students.
The Chicago Teachers Union (CTU) Human Rights Committee of 20 members formed a study group that is embedded into their regular monthly meetings. K–12 educators created a space to "generate and share ideas for promoting anti-racist curricula and practices in Chicago schools."