"We do not accept woke indoctrination masquerading as education."
This was Florida's education commissioner Manny Diaz Jr.'s ill-informed rant in defense of Florida's recent banning of the new Advanced Placement African American History course. By "woke indoctrination," Diaz was referring to teaching children that Black people have a history worthy of study and that they have achieved immense contributions and engaged in awe-inspiring struggles for democracy.
We know that Florida educators and teacher educators are horrified by the attacks on African American history and anti-racist education. In solidarity, Rethinking Schools is sending copies of Teaching for Black Lives to Florida classroom teachers who request them. We invite everyone who believes in teaching the truth to join us by donating. Your donations will go directly to getting this crucial text into the hands of Florida educators and teacher educators.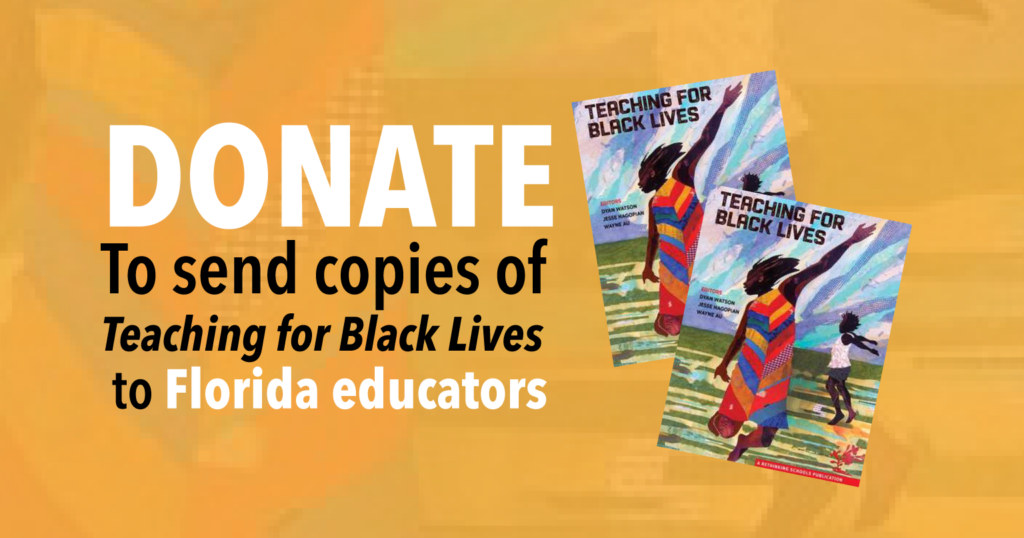 Request Book
Florida is one of 42 states to either pass or introduce legislation that bans teaching the truth about structural racism. School librarians have come under attack with new laws that threaten them with jail or fines for providing students books that a parent finds objectionable. As of June 2022, The Washington Post identified at least 160 educators who lost their jobs or resigned because they taught about race or LGBTQ+ issues. This comes in the form of backlash just two years after the racial justice uprisings.
Florida has revealed the true motives behind bills that ban the teaching of what the right labels "critical race theory." Commenting on the prohibition on the AP African American History class, Florida Governor Ron DeSantis said, "This course on Black history, what are one — what's one of the lessons about? Queer theory. Now, who would say that an important part of Black history is queer theory? That is somebody pushing an agenda on our kids."
DeSantis' statement is as ignorant as it is bigoted. You can't talk — or teach — about Black American history without including the many Black LGBTQ+ artists, organizers, and leaders, including Lorraine Hansberry, James Baldwin, Pauli Murray, Bessie Smith, Bayard Rustin, Marsha P. Johnson, and so many others. The Florida Education department list objections to six themes in the AP course that make the course relevant to students' lives and representative of the broad experiences of Black people: Black Queer Studies, Intersectionality, Movement for Black Lives, Black Feminist Literary Thought, The Reparations Movement, and Black Struggle in the 21st Century.
Each of these points is an area of emphasis in any meaningful teaching of Black history and the history of the United States. Yet, the right rejects these because they fear what happens when people learn an intersectional approach to history that reveals how overlapping systems of power have been used to oppress Black people, women, LGBTQ+ people, and more. DeSantis and Florida education officials know that when students learn from history, they demand and can organize to shape a more just future.
The current attack on anti-racist education must be placed in its historical context. The champions of structural racism have continuously fought against racial justice education —  from the anti-literacy laws imposed on enslaved Black people, to the McCarthy-era mass firing of teachers who deviated from the orthodoxy of American exceptionalism, to states trying to ban the use of A People's History of the United States in the classroom, to the 2012 attack on the Ethnic Studies program in Tucson, Arizona.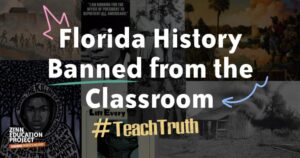 Additionally, people's history in Florida would be off-limits to students — stories like the Ocoee Massacre, where in 1920 a white supremacist mob killed more than 50 Black people after going to vote. What also would be left out are stories like how "Lift Every Voice and Sing" was first publicly performed by 500 schoolchildren in Jacksonville, Florida, or how Shirley Chisholm made history at the 1972 Democratic Convention in Miami Beach. These stories illuminate how structural racism has long permeated society and also highlights a history of beauty, joy, collectiveness, and subversiveness.
Of course, those who wish to maintain structural racism don't openly declare their intentions to ban honest accounts of history. When House Bill 7 passed in Florida — the so-called "Stop WOKE Act," the bill's sponsor, Republican Bryan Avila, said, "Nothing in this bill bans the teaching of historical facts about slavery, about sexism, about racial oppression, about racial segregation, and about racial discrimination. Absolutely nothing." This has been the refrain of the anti-critical race theory extremists around the country as they suggest that banning the teaching of structural racism has no negative impact on the teaching of Black history.
While this line of argument has always been brittle, in the wake of Florida's ban on AP African American History, the argument has been shattered into a million pieces. The true motives of those seeking bans on teaching about structural racism are now exposed for all to see: deceive students about Black history so they don't learn the important lessons Black people have given the world about strategies in the struggle for social justice.
Although we have long advocated for pedagogy not tied to high-stakes standardized tests, such as Advanced Placement courses, we know that if they can ban AP African American History then there is little hope for more liberatory classes, such as Black studies and ethnic studies.
We know that teachers are committed to teaching outside the textbook. Registrations at the Zinn Education Project site have doubled since June 2020 and more than 8,500 educators have signed our pledge to teach the truth about history. We support the thousands of Florida teachers who continue to teach the truth regardless of the law. In solidarity, Rethinking Schools is sending copies of Teaching for Black Lives to Florida teachers and teacher educators.
We call on all everyone who believes in teaching the truth to join us by donating.
Donate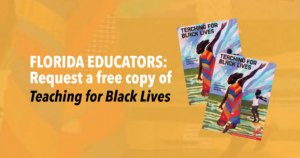 If you are a teacher or teacher educator in Florida, you can request a copy of Teaching for Black Lives here.
Request Book