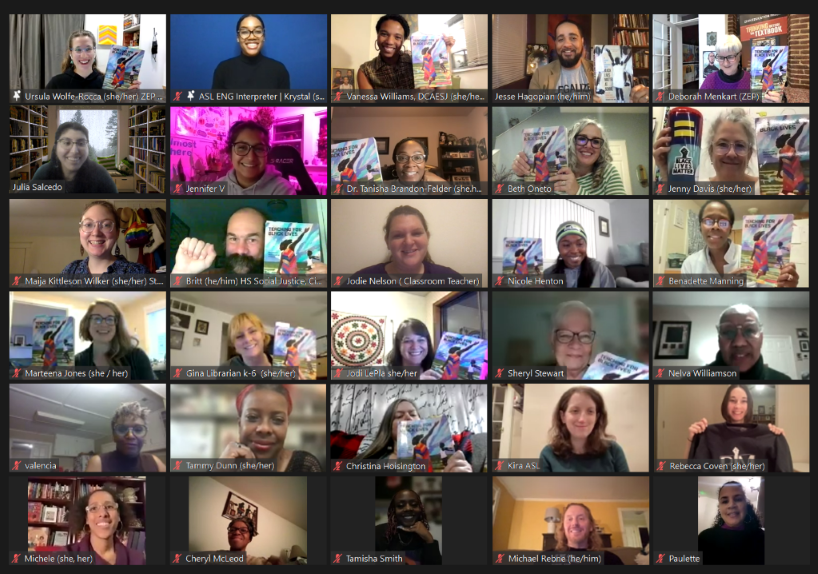 In January, the Zinn Education Project (ZEP) hosted a planning workshop for Teaching for Black Lives study groups and other social justice educators to provide ideas on ways to participate in the Black Lives Matter at School Week of Action, February 6–10, 2023. 
Black Lives Matter at School coordinating committee member and Teaching for Black Lives co-editor, Jesse Hagopian, facilitated the workshop. He opened with Donovan Livingston's spoken word poem, "Lift-Off," and asked participants to share some their favorite lines to in the chat:
But I've always been a thorn in the side of injustice
telling them education is the key / While you continue to change the locks.
As educators, rather than raising your voices/ Over the rustling of our chains, / Take them off. Un-cuff us.
Jesse described the origins of the movement, how it has evolved over the years, and the Black Lives Matter at School 13 Principles. He explained, "In Philadelphia, they got the great idea to develop the 13 principles and break them into teaching points for each day of the week of action. On Monday, educators across the country will be teaching about restorative justice, empathy, and loving engagement. On Tuesday, they will be teaching lessons about diversity and globalism." 
Watch the video below to hear what Jesse teaches during the week of action.
Educators engaged with a Padlet highlighting each of the principles and reviewed and organizing template. In the workshop, they focused on two key questions:
-Who are your allies?
-What level of participation are you planning for?
Participants discussed their ideas, plans, and concerns with fellow social justice educators in breakout groups. The workshop closed with a short Q&A with Jesse.
Read key takeaways from workshop participants below.
I appreciate the support and the encouragement for us to start and build each year. Thank you so much for all of your work. I am learning so much from
Teaching for Black Lives
, and the other resources at the Zinn Education Project.
I think everything you shared tonight was very useful and informative. Since this is the first year we will be implementing BLM at School Week of Action, I am excited to involve student leaders in helping me develop the plan.
Thank you for putting a light on the racist agenda to attack educators and education of Truth history.  It is disturbing that this is happening and not enough people are talking about it.
Thank you!!!! This was the time I needed to help me know I am doing the right thing for my Black students.