This resource page is for Teaching for Black Lives Study Group members only.
Upcoming Events
All weekday events are at 4pm PT/ 7pm ET and last for 60 to 90 minutes. 
ASL Interpretation will be available upon request. Please register at least four days in advance to give our team time to schedule interpreters.
♦ Invite Only
2023
February 6 | Starring Mrs. Rosa Parks: Film Excerpts and Behind the Scenes Commentary with Jeanne Theoharis. This session is a Teach the Black Freedom Struggle Online Class.
March 20 | I Saw Death Coming: A History of Terror and Survival in the War against Reconstruction with Kidada E. Williams. This session is a Teach the Black Freedom Struggle Online Class.
April 3 ♦ Teach Reconstruction.
Reconstruction — the era in which four million recently emancipated people sought to build new lives and, indeed, a new country — is woefully neglected in most pre-k-12 curriculum. In this workshop, Jessica Rucker will follow up on the Zinn Education Project's Teach the Black Freedom Struggle online class with Dr. Kidada Williams, by providing educators teaching ideas and analytic frameworks, using resources from Dr. Williams'
work as well as the broader Teach Reconstruction campaign.
April 17 ♦ Racial Justice Is Environmental Justice.
In this workshop, participants will experience a new classroom activity about the water crises in Flint, Jackson, and other cities across the United States. 
April 24 | Under the Skin: The Hidden Toll of Racism on American Lives and on the Health of Our Nation with Linda Villarosa. This session is a Teach the Black Freedom Struggle Online Class.
May 8 | Born in Blackness: Africa, Africans, and the Making of the Modern World, 1471 to the Second World War with Howard French. This session is a Teach the Black Freedom Struggle Online Class.
May 22 ♦ Closing Event with Jarvis R. Givens.
June 12 | Teaching Truthfully About U.S. History with Dr. Kimberlé Crenshaw. This session is a Teach the Black Freedom Struggle Online Class.
Book
The heart of the study groups is collectively reading, discussing, and applying what you learn from the Teaching for Black Lives book. You'll find a compilation of essays, teaching activities, role plays, poems, and artwork, designed to illuminate the movement for Black students' lives, the school-to-prison-pipeline, Black history, gentrification, intersectional Black identities, and more. The book is edited by Wayne Au, Jesse Hagopian, and Dyan Watson.
Guides
Guides
Study Guide
This guide, for teachers who are reading Teaching for Black Lives, includes thought-provoking questions for discussion, ideas for action, and resources for groups and individuals. Written by Cierra Kaler-Jones and Jesse Hagopian. Download the Teaching for Black Lives Study Guide.
Facilitation Guide
This month-to-month guide includes prompts and suggestions for study group meetings plus best practices for communication and engagement. Feel free to adapt and build off of to fit your own setting and your group's particular needs.
Rethinking
Rethinking Schools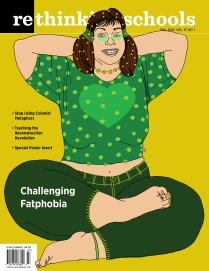 Each study group member receives a complimentary one-year Rethinking Schools subscription (digital and print). If you haven't subscribed already, please do so TODAY by following these instructions:
Beyond your study group members, do not share the code — there is only one subscription per study group member. For questions about the subscription, email orders@rethinkingschools.org.
Discord
We invite you to join our Discord Server specifically for Teaching for Black Lives study group members and coordinators. Connect with study group members in different states plus get advice and suggestions from continuing members.
If you're new to Discord or need a refresher on how to add a server, here are instructions for you to join via your desktop.