This resource page is for Teaching for Black Lives Study Group members only.
Upcoming Events
All weekday events are at 4pm PT/ 7pm ET and last for 60 to 90 minutes. 
ASL Interpretation will be available upon request. Please register at least four days in advance to give our team time to schedule interpreters.
♦ Invite Only
2023
June 10 | Teach Truth Day of Action
To make our voices loud and clear, we hope to see actions of all sizes — from one person to 100+. Every voice and action counts!
Sign up so that we can send you more resources and support. The process is simple:
Organize a gathering at the site (or online) with fellow educators, family members, students, and community members. The group can be any size. If you don't have time to organize a group, pick a site and go on your own or with a friend.
Invite teachers to share their commitment to teaching truthfully, parents to share why they want their children to have an uncensored education, and students to share why learning the truth about history and respecting all identities is important to them. You can plan other activities. See more ideas in our step-by-step guide.
Post photos and videos to social media with the hashtag #TeachTruth
June 12 | Teaching Truthfully About U.S. History with Dr. Kimberlé Crenshaw. This session is a Teach the Black Freedom Struggle Online Class.
Book
The heart of the study groups is collectively reading, discussing, and applying what you learn from the Teaching for Black Lives book. You'll find a compilation of essays, teaching activities, role plays, poems, and artwork, designed to illuminate the movement for Black students' lives, the school-to-prison-pipeline, Black history, gentrification, intersectional Black identities, and more. The book is edited by Wayne Au, Jesse Hagopian, and Dyan Watson.
Guides
Guides
Study Guide
This guide, for teachers who are reading Teaching for Black Lives, includes thought-provoking questions for discussion, ideas for action, and resources for groups and individuals. Written by Cierra Kaler-Jones and Jesse Hagopian. Download the Teaching for Black Lives Study Guide.
Facilitation Guide
This month-to-month guide includes prompts and suggestions for study group meetings plus best practices for communication and engagement. Feel free to adapt and build off of to fit your own setting and your group's particular needs.
Rethinking
Rethinking Schools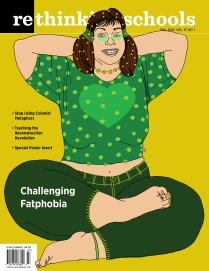 Each study group member receives a complimentary one-year Rethinking Schools subscription (digital and print). If you haven't subscribed already, please do so TODAY by following these instructions:
Beyond your study group members, do not share the code — there is only one subscription per study group member. For questions about the subscription, email orders@rethinkingschools.org.
Discord
We invite you to join our Discord Server specifically for Teaching for Black Lives study group members and coordinators. Connect with study group members in different states plus get advice and suggestions from continuing members.
If you're new to Discord or need a refresher on how to add a server, here are instructions for you to join via your desktop. 
Alumni
If you want to continue participating in your current Teaching for Black Lives study group, that is wonderful. Study group coordinators and members should begin to make plans and goals for another year. 
You are welcome to continue with your existing study group (and add a few new members) or create a new study group with new members. Either way, please fill out an application for the 2023–2024 school year. 
Do you know other educators in your area who might be interested in forming a Teaching for Black Lives study group? Please share the announcement with your colleagues and networks.