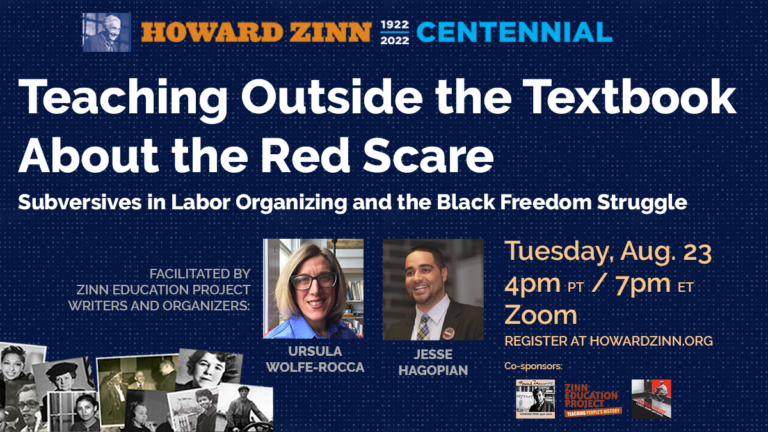 Tuesday, August 23, 2022: Ursula Wolfe-Rocca and Jesse Hagopian of the Zinn Education Project will be facilitating an interactive, online workshop about subversives in labor organizing and the Black freedom struggle.
In legislatures across the country, Republican lawmakers are introducing bills to curtail what educators — in public schools and universities — can say and teach about racism and sexism. It is worth reminding ourselves — and our students — of other times in U.S. history when powerful politicians manufactured threats and whipped up fear to neutralize progressive challenges to the status quo — the McCarthy Era being a well-known high watermark of state repression.
In this session, participants will experience a mixer lesson that can be used in grade 7+ classrooms. Students meet 27 different targets of government harassment and repression to analyze why disparate individuals might have become targets of the same campaign, determining what kind of threat they posed in the view of the U.S. government. And they experience how these individuals responded to this repression.
Participants will also be introduced to relevant primary documents from the Tamiment Library at NYU. The primary documents will be introduced by Michael Koncewicz, Michael Nash Archivist & Ewen Center Program Coordinator at Tamiment.
The workshop is free. ASL will be provided. Participants can request a professional development certificate for their participation. A Zoom link will be sent two days in advance and again on the day of the workshop.
Hosted by the Zinn Education Project as one of three public events for the Howard Zinn Centennial Week. Co-sponsored by the Howard Zinn Revocable Trust and Tamiment-Wagner Collections, New York University.